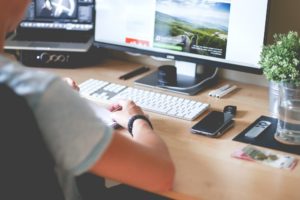 Do you want your website to rank high in search engines?
Onsite website optimization is the foundation for allowing search engines to find your page and to understand what it is about. On-site optimization is part of a larger idea called search engine optimization or SEO. When your website is well optimized and search engines see you as an authority for the words people are looking up your website will rank highly. Not all keywords are worth spending your time on. The amount of possible traffic varies greatly from keyword to keyword. Top level keywords tend to be the toughest to go after. As you start to narrow the focus geographically or towards a specific niche of your business you can start to find a better place to enter the market for optimization.
The sweet spot you are looking for is not so broad that it would take all of your time, effort, and money to try to get one of those coveted first page spots. Also, it can not be so specific of a keyword that it does not get enough traffic to warrant your time, energy, and real estate on your website.
A good place to start when you are deciding which keywords to go after is to look at your competition. Either locally or in the field you are in. Look at their pages and see what words and ideas they are using throughout their content. Start visiting pages deeper into their site to see what other keywords they are optimizing other pages on their site for. Each page should focus on one or two keyword phrases.
Years ago it was possible to stuff keywords in your page to artificially build up your ranking in search engines. This is no longer the case. The search algorithms have come a long way to understand what makes content good for visitors. It is not just about your content either. How your visitors interact with your website also plays a large role in whether your site is seen to have perceived value. Will the visitor on your page go back to the search engine to find what they are looking for because you were unable to provide it?
Put your visitors first when you are creating content. Write in a way that people will want to read. Make it clear what visitors have to gain by reading your content. Use simple language that visitors will have an easy time understanding. Provide clear calls to action to help people to the next step in the sales process for your website. Your homepage should be a gateway to tell visitors what you have to offer, what they can expect, and what they need to do next to move forward with your sales process.
DIY on-site SEO
There are a number of free browser add-ons you can install that will give you a breakdown of how effective your on-site optimization is. One that I like and use for Google Chrome is called Woorank. After you have installed the plugin it will appear in the top right corner of your browser window. Visit the page you would like to test for on-site optimization and click on the icon (it is a blue icon with a white checkbox). When the window pops up it will display a numerical score out of 100 that signifies how effective your on-site optimization is on that page. Remember every page on your website is different and needs to be optimized. As you scroll down in the pop-up window you will be able to see all of the different factors that go into the score you saw at the top of the page. As you address each of the things it says you need your score will go up and your page will be on its way to being fully optimized.